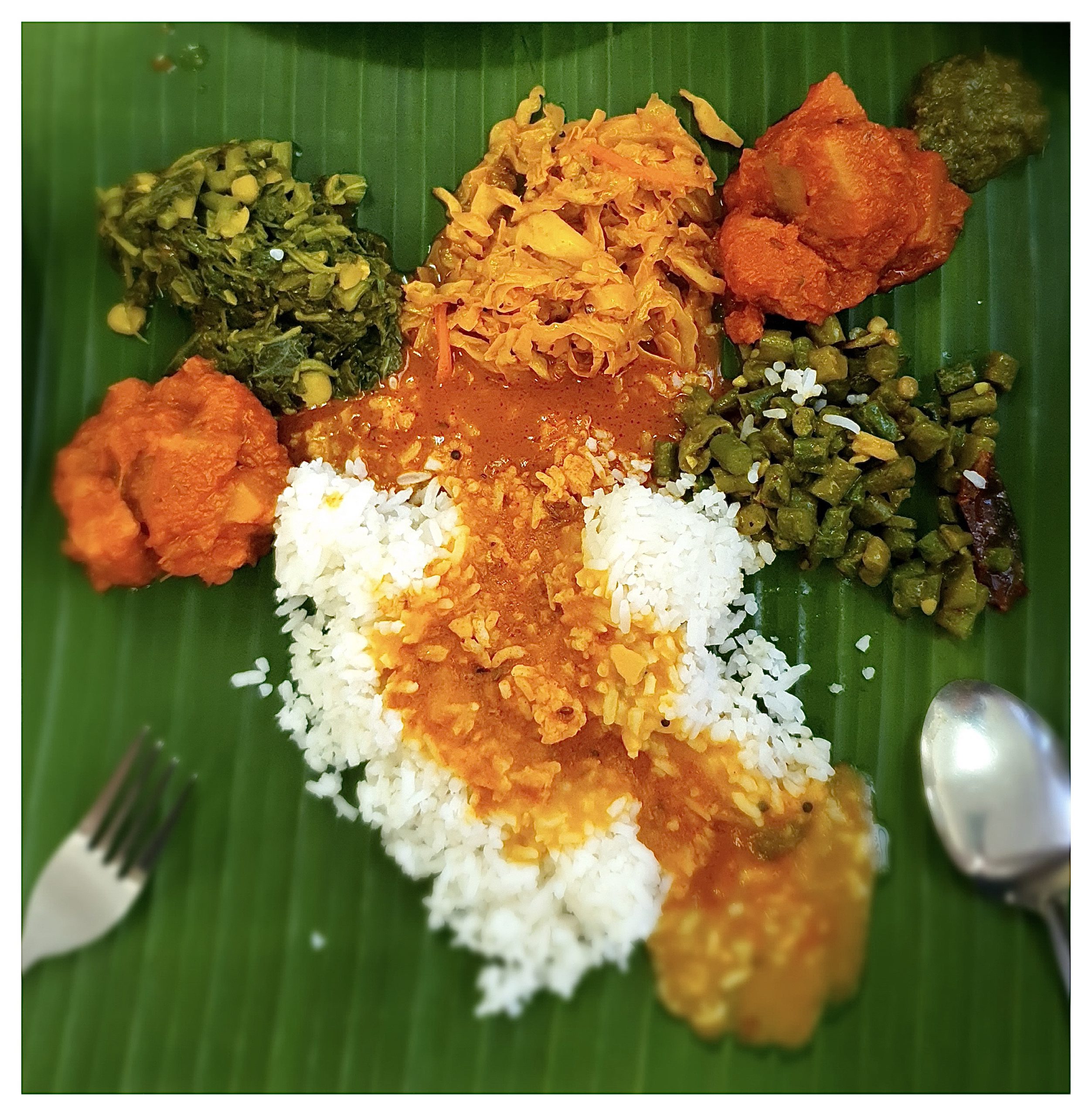 Review :- Sabahan style banana Leaf Rice
Langgani saluran TELEGRAM kami untuk berita terkini
Read Time:
4 Minute, 53 Second
By Isabelle Yap,
a Kinabalu food-loving girl munching at @goeatwhat
---
Want to add a cultural experience to your next lunch break? Grab a group of friends and tuck into a delicious, nutritious Banana Leaf Rice feast at Sri Latha Curry House.
You've probably heard of it, but have you been? Located in the Bandaran Berjaya area, Sri Latha looks bare and unassuming from the outside, but it's secretly packed with delightful savory and sour flavors.
It's one of just a few places in Kota Kinabalu selling Banana Leaf Rice, and it's been around for a long, long time. Never had Banana Leaf Rice before? Here's the rundown:
The concept of Banana Leaf Rice rice is unique in so many ways.
Your food is served on a fresh banana leaf, which adds its appetizing fragrance to your meal.
Rice is served with generous helpings of vegetarian dishes, at least three or four. Your rice can then be banjir-ed with dahl, chicken curry, or both. At Sri Latha, expect stewed pumpkin, stir fried cabbage, spinach and chopped kacang panjang. Sometimes beansprouts, cucumbers, radishes and potatoes pop up too. Nice!
Unlimited refills. Yup. That's right. Just ask your friendly server to top up your favorite dish, rice and choice of banjir.
And there's more free stuff at Sri Latha: crispy and airy 'indian keropok' papadums, with mint dip and tangy lime pickle. The lime pickle really kicks!
And if you really want to boost your lunch – order extra meat, fish and veggie dishes on top of your Banana Leaf Rice.
I was brought to Sri Latha's for the first time in February 2022 by a group of long-time Sri Latha-lovin' friends.
When I told the group I had never been there before, cue the round of "Haaaaah?" and "We must go NOW!".
I tried to defend myself "I always wanted to go but scared long queue ma!" but I was pretty embarrassed I'd not been to this long-loved local establishment in all my 27 years.
When we arrived, the crowd was not the famed pack of sardines it used to be, sadly due to the pandemic these recent years. However, the restaurant was still completely full.
"Uh oh – we might have to wait…"
Hot tip: If you tell the boss your entire group will order banana leaf rice, you'll be seated ASAP in the 'VIP' air-con area upstairs. Expect comfy chairs too.
My friend whispered the above hot tip to me and we were seated upstairs immediately after making our promises. "Sri Latha actually expanded twice in recent years" my friend told me "but they still take your order as soon as you sit down, and the food comes quickly". We supposed this was so that they could get through the large lunch-crowd queues that would form every lunchtime on the streets outside.
I let my friends, the Sri Latha veterans, do the ordering for me, the newbie.My friends asked for a feast, and boy did nothing disappoint. Crispy spiced fried bittergourd (Malay: peria goreng), fried fish eggs (also called fish roe) with curry leaves & lime; juicy fried chicken, fried fresh white fish & thick lamb curry. Made with a variety of traditionally Southern Indian ingredients such as curry leaves, star anise & plenty of other masala mixes, these definitely created a more flavorful and colorful lunch than usual. My personal top 2 favorites are the fried fish roe and fried chicken. The fried fish roe is something unique, with a delightful briny taste mixed with spices, but no fishy aftertaste. The fried chicken was similarly spiced, and juicy – a must!
Hot tip: arrive before 12 noon if you are really craving the peria goreng & fried fish roe as these are known to sell out the fastest!
Thirsty? The mango lassi at Sri Latha's is legendary, costing as much as one Banana Leaf Rice order, but for good reason. Made with thick creamy yogurt and fresh mangoes, I say it is worth treating yourself. Once you've eaten to your heart's content, a glass of mango lassi at the end will cool you down and aid digestion.
Did you know you can use a banana leaf to communicate with your server? The way you fold your leaf after you're done eating sends out a special message. Folding the leaf in towards you shows that you appreciated and enjoyed the meal. Folding the leaf away from you shows that you weren't content with the food. Another cultural fact: Folding a banana leaf away is usually done at funerals as a sign of condolences, so you would only fold your leaf this way if you felt really strongly about it. Either way, don't be afraid to tell the friendly owner yourself if you enjoyed your meal!
Tips:
Not for spicy lovers, but don't worry as the dishes stick to the original rich flavors of the ingredients.
Eating with the right hand is the right way, while the left hand is considered unclean. Prefer to keep both hands clean? No problem – utensils are provided.
Ask for the prices when ordering meat and fish. Some fish can come with a higher price tag depending on the seasonal market price.
Don't Forget to Share, Like and Comment @sabahmedia