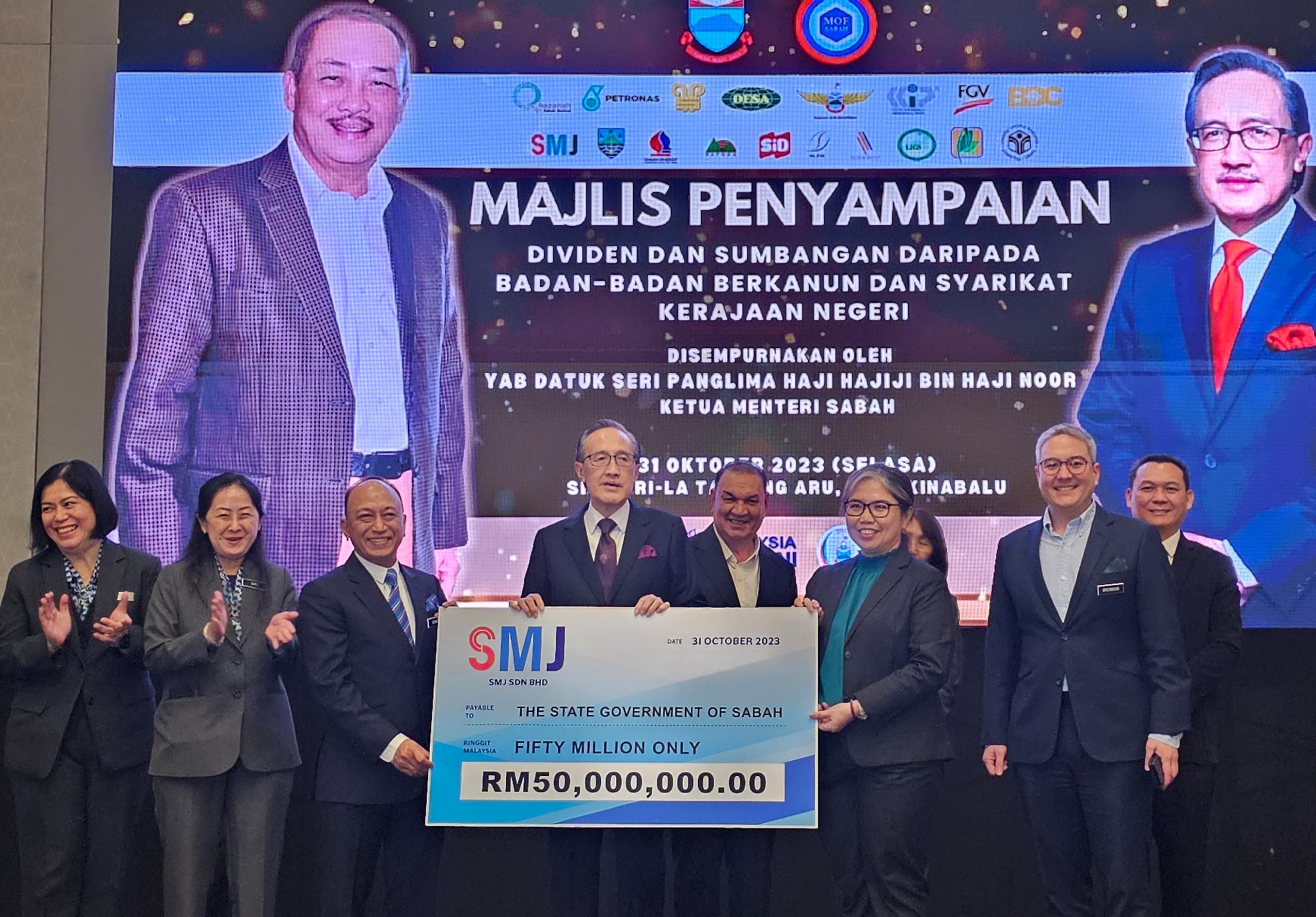 SMJSB declares maiden RM50 million dividends to Sabah Government
Langgani saluran TELEGRAM kami untuk berita terkini
Read Time:
2 Minute, 11 Second
By Vivien Joannes
KOTA KINABALU: Backed by strong cash balance, SMJ Sdn Bhd (SMJSB) declared its maiden dividend of RM50 million to the Sabah State Government for the financial year ending Dec 31, 2023, at the mock cheque presentation, here, today.
SMJSB Chief Executive Officer Dr Dionysia Kibat said, in line with the company's dividend policy, the dividend was derived from the surplus funds resulting from the strong cash flows of the company's two recently acquired assets – Samarang Production Sharing Contract (PSC) and Sabah Ammonia Urea Plant (SAMUR), after taking into account financial and work commitments of its ongoing and planned activities.
"Since the acquisition of 50 per cent participating interest in the Samarang PSC in May this year, SMJSB has sold two cargoes of crude oil, totalling about 600,000 barrels, to Shell International Eastern Trading Company. The first
was sold for about USD28 million (RM134 million) and the second for about USD30 million (RM144 million) on Oct 24," said Kibat.
In addition to the contributions from the Samarang PSC, SMJSB also expects strong cash flows from its 25 per cent equity stake in SAMUR.
"Based on publicly available records, SAMUR has an annual historical cash payout of approximately RM650 million per-year. SMJSB expects a similar amount this year and will receive 25 per cent of the cash payout from its equity stake in SAMUR," she said.
Kibat also added that on Oct 16, SMJSB successfully priced its inaugural RM900 million Islamic medium-term notes, which was issued out of the AAA-rated Multi-Currency Sukuk Wakalah Programme of RM10 billion.
"This first issuance was 3.9 times oversubscribed with a total book of RM3.5 billion," she said.
In another development, SMJSB officially acquired Sabah International Petroleum Sdn Bhd (SIP) on Oct 25, which holds a 10 per cent stake in Petronas LNG9 Sdn Bhd that operates an LNG plant within the Bintulu LNG complex.
SIP received RM216.7 million incomes from its 10 per cent equity interest in the LNG9 venture last year. A higher amount is expected this year due to the stronger market conditions. SMJSB will use dividends received from LNG9
to help fund the SIP acquisition.
At the event, Finance Minister and SMJSB Chairman Datuk Seri Masidi Manjun, in reading Chief Minister Datuk Seri Hajiji Noor's speech, said that as of Oct 30, the State Government received a total of RM129.7 million dividend and RM9 million contribution from statutory bodies and state-owned entities.
He further added that by upholding best practices, corporate governance and sound financial management, the state is definitely an attractive investment destination for all.